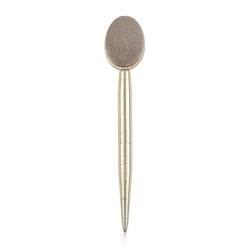 colorjust
The Limited Edition Foundation Paddle Brush in Scratched Gold
Shaped to smooth over the curves of the face for flawless foundation application. Sized to reduce the number of strokes needed to blend foundation into the skin.

The brushed metal handles are bundled with hundreds of thousands of premium, cruelty-free synthetic fibers for superior application.
What else you need to know:
This product is vegan and cruelty-free.